Welcome to The Green Valley Gardeners
A Service Club Made Up of Gardeners
Founded in 1980
Major Projects
Weekly Gardening Seminars
Prominent authors, horticulturalists, growers, & plant authorities presenting their expertise. Free admission includes coffee & light refreshments.
Contact: Judy Christensen cell: 231-499-8794
The Arid Garden
Our Mission: To maintain a peaceful and welcoming garden demonstrating the use of native and low water plantings for the education and enjoyment of all area residents.
The park is located at 1004 W. Camino del Arrendajo, Green Valley AZ 85622, in the Desert Hills sub-division, just off Camino Encanto, in the heart of Green Valley. Entrance to this 1-acre demonstration garden is free and open to the public from dawn to dusk. You'll find several winding paths through over 600 plants, shrubs and trees, and shaded seating areas where you sit and watch the many avian visitors who also enjoy the park.
Contact: Mary Kidnocker phone - 648-7959
The Arid Garden Entrance The Arid Garden
Click on photos to see them full size.
The Allen J. Ogden Community Garden
Our Mission: To provide garden plots to members of Green Valley Gardeners wishing to learn about and demonstrate successful vegetable gardening in the desert southwest.

Who We Are: As recently as 2009, the garden was made up of nine men, who tended multiple plots. In September 2014, there were 56 gardeners, 9 of whom are children. We are novice and graduate level educated horticulturists, former landscapers, Master Gardeners from other states, and people who just like to spend time outside with their hands in the soil. We even have seasonal residents who come and just volunteer.

What We Offer: The garden offers 8 raised beds, 20 10'x40' plots, shared tillers and cultivators, sheds, composting bins, fencing, a gazebo, picnic tables, access to a well for irrigation, plenty of parking, and a handicap accessible porta-potty.
Contact: George Stone phone – (520) 625-3475.
Desert Meadows Park: Bird Watchers gather to enjoy the sites.
Learn about our newest project! Visit The Park.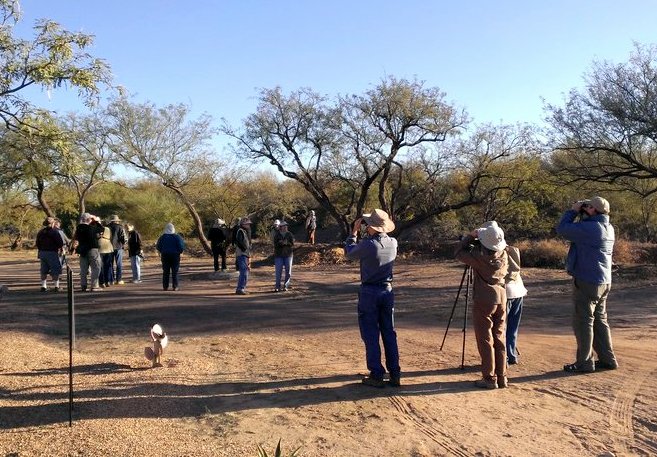 https://smile.amazon.com/ch/86-0436517